TOP >Business record > Iran (1)
Business record
Iran (1)

PART LASTIC CO.
Part Lastic Co. (PLSC) is an automotive rubber parts manufacturer located in Mashhad (1,000 kilometers east of the capital city of Tehran). It is a leading company of such great importance that it is said that a stoppage of production would cause extensive harm to the automotive industry in Iran.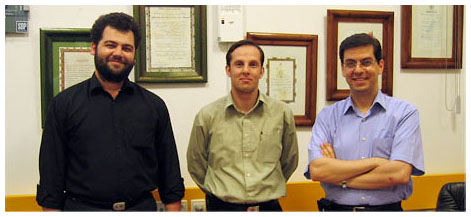 Although it was launched by the efforts of just a few entrepreneurs, the company has developed new related businesses that it has evolved into a huge conglomerate with over 2,500 employees and six group companies.
1985

The company was founded in Mashhad, Iran by Iraj Yazdanbakhsh, the current president.

1987

Shortly after PLSC's founding, JETRO has dispatched to Tehran Minoru Hirata, who was an employee of INOAC. As a technical instructor Hirata taught the fundamental principles of manufacturing technologies, this has contributed to the development of PLSC into what it has become today. At first, Hirata had remained in Tehran and continued to teach even after the Iran-Iraq War had broken out, however as the war situation deteriorated he sought refuge in Mashhad. This was when he crossed paths with PLSC.

1990

Upon an introduction by Hirata, JTC began exporting EPDM and other key materials from Japan. While accommodating the various economic and political changes in Iran, JTC has continued to provide a stable supply of products without interruption and has supported the development of PLSC into what it has become today. These efforts have helped to strengthen an unyielding relationship of mutual trust.

2005

A technological assistance agreement for the manufacturing of automotive rubber hoses was concluded with Hutchinson; a French company. Hence the Hose-manufacturing company Baspar Taban Co. was established. JTC invested fifteen percent of the capital to become a partner in the joint venture.